Pre-poll and postal vote information – Postal vote application form
Don't allow Tasmania fall to the Liberal party political sell off, find out who your local Labor member is and introduce yourself.
Let them know what is important to YOU because it is important to them.
Let them know what you want, or don't want, but
don't be led where you choose not to go
in an LNP grab for national domination, both state and Federal.
Help Labor to stand for You the People of Lyons, to bring a better educational environment to all the Children of Lyons, and to preserve our jobs, wages, conditions and skills, for Tasmanians, for You!
Help Labor to keep our children in Tasmania by providing an education that will provide the essential real world skills required in our ever evolving technological world. Skills that will continue to provide for our children, and their children, far into theirs, and our futures, as great Labor projects always do.
The Labor government seeks to build essential, real world economic partnerships for Tasmania and has pledged $1.7m over 3-yrs to extend the new
Launching into Learning program
: "to improve the health and well-being, education and care of Tasmanias very young children
by supporting parents and enhancing accessibility of services in the local community."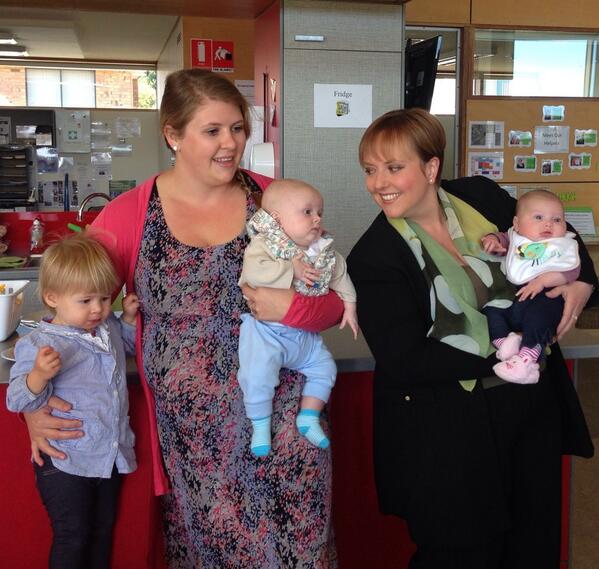 With the Federal Liberal National Government leading the charge in heightening unemployment throughout Australia, and with thousands of Australians finding themselves unemployed almost weekly, Tasmania needs to hold tight to it Labor roots, because the precious few jobs left to keep our children with us, have become ever more tenuous because, 
what the Federal
LNP have in store for Tasmania, and Tasmanians, is devastating:
The Federal Government, the Abbott government, is signaling that cash handouts for businesses available under the forest peace deal could be amongst the last round of federal government handouts for Tasmanian businesses. Assistant Regional Development Minister Jamie Briggs was in Tasmania on the 3rd Feb, 2014 to distribute the money, aimed at diversifying the state's economy. He says the country (Australia) can not afford to hand out more money to Tasmanian businesses.

"Tasmania, in a sense, is an economic project which has failed, and it's a good time really for a state election in that respect" says the Federal LNP government, "You can't just keep relying on the generosity of the Federal Government – or taxpayers in other states – to prop up the bottom line."
We have just been informed that Tasmania, that WE are considered to be the bottom line by the LNP government and are not worthy of their assistance.
The Liberal MP Sharman Stone
has stated that
Tony Abbott and Joe Hockey 'lied' over the review into SPC Ardmona
outcome:
Dr Stone, Liberal MP to the Goulburn Valley electorate told ABC radio on Tuesday, that her colleagues were misleading the public by saying workplace conditions were to blame. Asked whether she thought Mr Abbott and Mr Hockey are "actually, really lying when they're saying it's about this issue (the workplace agreement)", Dr Stone responded: "Well they're not speaking the reality."
When asked if that constituted "lying", Dr Stone said: "It's not the truth, that's right, it's lying (Source)."
It was only on Wednesday the 29th of January, 2014 that the Independent Upper House MP Paul Harriss insisted that his latest attempt to kill off Tasmania's forest peace deal was not first approved by the Liberal Party.
In 2012, Will Hodgman proclaimed that we need to 'Unlock Tasmania.' Tony Abbott proclaims often that 'Australia is open for business,' does Will Hodgman, like Tony Abbott intend on sacking Australia and then selling Australia off to the highest global investor?
This video was created in 2012 and yet it appears to echo the 2014 attempt to kill off Tasmania's forest peace deal.

You decide (You only really need to watch the first 15 seconds to get the general idea)
I had the misfortune of once knowing a company that would operate for around 5-years, and after that time, when workers had built up their sick days, penalties and service leaves, the company would declare bankruptcy, sack everyone and the next day they would open under a new business name. Whoever returned to work that day, would be re-hired under the new name, but lose all their entitlements.
This happened so often that the workers knew that it was first in best dressed.
This began under the federal Liberal, Malcolm Fraser and state premier Charlie Court and I fear these days have returned, as the perfect storm scenario unfolds before the eyes of total disbelief, because it has been a generation since this type of politics has been played out in Australia. Some of us remember the tragedy, many of us have the power to ensure that this does not happen to the Australian worker again. With this in mind, we must also remember that unions, for the most part, are there to protect the workers rights.
With the Abbott governments all-out-war on Unions, and the denial of assistance to companies in Australia, who hire Australian workers, Charlie and Fraser come to mind.
We do not want this bleeding into Tasmania through Hodgman from his mate Abbott.
Tasmania has only ever attracted Federal LNP interest around election periods, and this state level election is important to them. Cadbury maybe the last injection of funds to maintain an economy in Tasmania from the Federal LNPs, and should Tasmania fall to the Liberals in March, well we may as well just throw our hands in the air right now, start gaining a next-door neighbour connective network and begin to grow and share our basic resources amongst ourselves, like fresh veg, eggs and milk because bad times are here under Abbott and if the LNP take Tasmania at the state level too, it will be here to stay. Remember the Mercy hospital deal that Tony Abbott resided over:
[youtube]http://www.youtube.com/watch?v=Av1VZhOCXd8[/youtube]
"The future of the nation's only directly federally funded hospital, the Mersey Hospital in northern Tasmania, is now under a cloud with the Abbott government refusing to discuss its plans for when the arrangement expires next year (Sep, 2013)."
[youtube]http://www.youtube.com/watch?v=SmDksm2HerU[/youtube]
Today, Toyota has risen to the Abbott government challenge and is now leaving Australia – it looks like another  2000+ immediate jobs will go and up to 10000 connected supply jobs will also be affected, when Toyota leave Australia. We need to stop the carnage. Tasmanians need to say NO to the Liberal party steam roller and protect Tasmania and Tasmanians from the Liberal party sell off.
Help Labor Stand for You, the People of Lyons, of Tasmania, for a Better Educational environment and system for our Children of Tasmania.
For our children. Jessey Dillon, one of the newest state Members for Lyons, is young and energetic. He is a great role model for aspirational Tasmanian parents desiring to know that it is possible for their children to grow in a healthy and economically viable Tasmania. Jessey himself, is a great endorsement to the youth in Tasmania because his focus is upon education and skills for our youth. Skills that are quickly eroding to offshore processors under an LNP government, in the job for less than 100 days. the 80 days since, only highlights the tragedy that is a Liberal led government.
Tony Abbott, Will Hodgmans mate, has taken the intent of the 'Aussie fair go' and twisted its reasoning into a resounding 'Aussie shudder'.
Labor strives to maintain their goal to protect the people and their jobs, and with the latest 'unfounded' allegations by Kevin Andrews's, that Australia's welfare spending is heading down the same path as Europe's, more than ever before Tasmania must remain with the stable Labor government that cherishes the warmth of family, and strives to ensure jobs and skills for our children.
The LNP, on all levels are spending vasts amount of money on their campaigns in a climate where, according to Joe Hockey, there is a budget emergency.
Don't allow Tasmania fall to the Liberal party political sell off, find out who your local Labor member is and introduce yourself.
Let them know what is important to YOU.
Let them know what you want and don't want, but
don't be led where you choose not to go
in an LNP grab for national domination by LNP, both state and Federal.
At a state election in Tasmania, it is a vote for the person and not so much the party, but the 2014 Tasmanian election and the re-election of labor, could just save Tasmania and Tasmanians. There is not much manufacturing and industry in Tasmania and we do not want to become South Australia, the car industry, car parts suppliers; SPC, Orchardists and now the farmers caught in a second year severe drought seeking assistance from LNP governments, who do not care about the worker, the nuts and bolts of the Australian economy, all they care about is the bottom line, the almighty dollar.
Drought ravaged Australia
This is what Joe Hockey had to say to those farmers: Joe Hockey says 'age of personal responsibility has begun.
Joe Hockey told ABC Radio that farmers with debt problems should "speak to the people that they owe the money to, as a starting point (Read more )."
Pre-election Tony Abbott, assured SPC workers that their conditions would not change under an LNP Government, he lied!
Bill Shorten reveals a small amount of the damage that the Abbott government has bought into the homes of the Australian worker, the Australian family
: He said the Abbott government "came to power saying health and education were safe" but now says through its Commission of Audit everything "is on the table". Bill also related how
the Abbott government "isn't interested in fighting for jobs",
but has taken money from
child care workers
and
aged care workers
and
"prefers secrecy to scrutiny"
. He said the proposed $6 Medicare co-payment is "just the beginning" and I have to say that even if I was not Labor through and through, the evidence proves his point.
Terri Butler looks to take the seat of Griffith after an exceptional win on Saturday. After a 14 month campaign and already losing two elections, Dr Bill Glasson, with all the federal LNP money thrown in behind him, looks to have lost a third time to Labor, to the will of the people.
Preemptive congratulations Terri Butler
Now is not the the time to change government in Tasmania, we need to retain Labor as our elected government and the way to do this is at the polls. As Tasmanians, we need to secure our futures, and the futures of our children by voting for our local Labor members on polling day. If you are ill or will be away, then send in a postal vote and keep control of what happens to and in your Tasmania –  Pre-poll and postal vote information – Postal vote application form
 Meet your local Tasmanian member – click here to find your Tasmanian Labor Candidate