He looks a lot like this person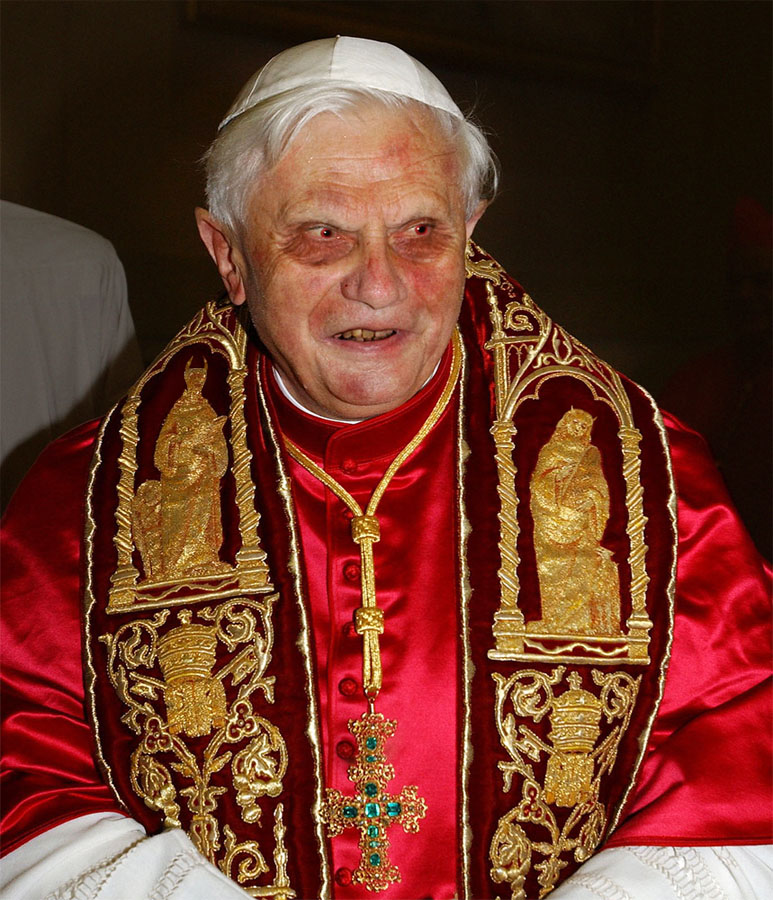 TONY ABBOTT "congratulated" the Prime Minister when she called the manager of opposition business, Christopher Pyne, "mincing" and "a poodle".

Julia Gillard made that claim yesterday when asked about an incident during question time in 2009, when she was deputy prime minister.

The then opposition leader, Malcolm Turnbull, had overlooked Abbott for the role of manager of opposition business, appointing Pyne instead.

"I must admit that I did want to see the member for Warringah making a comeback," Gillard told Parliament at the time.

"In a choice between macho and mincing, I would have gone for macho myself … the Leader of the Opposition, faced with the choice of a doberman or poodle, has gone for the poodle."
Teachers warn of 'culture wars' as Christopher Pyne announces back-to-basics curriculum review
By political reporter Simon Cullen, staff – Updated Fri 10 Jan 2014, 10:35pm AEDT
Education Minister Christopher Pyne has indicated he wants the national school curriculum to have a greater focus on the benefits of Western civilisation, prompting warnings any changes could result in another "culture war".

He has asked two critics of the current curriculum – former teacher and ex-Liberal Party staffer Kevin Donnelly, and University of Queensland Professor Ken Wiltshire – to review what is taught in Australian schools.

"I'm not going to prejudge the outcome of the national curriculum [review], suffice to say there has been criticism of the national curriculum over a lengthy period of time," Mr Pyne told reporters in Adelaide.

"What I want the curriculum to be is a robust and worthwhile document that embraces knowledge and doesn't try and be all things to all people.
Pressure on Coalition to honour original funding model
Tasmanian Education Minister and state Greens leader Nick McKim says the original arrangement should stand.

"Well look, it appears to be good news on the surface of it," Mr McKim said.

"But there's been nothing but megaphone diplomacy this week from Mr Abbott and Mr Pyne.

"And the Tasmanian Government signed an agreement for six years. We believe that that agreement should be honoured."
Pyne hails 'national model' after backflip on Gonski funding
Abbott to honour Gonski school funding deals
Coalition never promised to keep Gonski: Abbott
No room for Christopher Pyne's flat-earth views in schools
The Labor Party, teaching unions, education academics, and P & Cs have all been accused of moving the national curriculum to the left.

The curriculum has become too "secular", "Asia-oriented", "left", "progressive", "new age" and "politically correct", to use the words of former Liberal staffer and teacher Kevin Donnelly who has been appointed by Education Minister Christopher Pyne to an inquiry to review the curriculum.

Pyne now wants to reverse the trend. He wants students to learn more about Australia's Christian and British heritage. He is being applauded by commentators in The Australian, and condemned everywhere else.
Christopher Pyne appoints critics of school curriculum to review system – January 10, 2014 – Judith Ireland
The curriculum review was part of the Coalition's 2013 election platform and Mr Pyne has previously criticised what he describes as too little emphasis on "the non-Labor side of our history".

In an opinion piece in The Australian newspaper on Friday, Mr Pyne added that "concerns have been raised about the history curriculum not recognising the legacy of Western civilisation and not giving important events in Australia's history and culture the prominence they deserve, such as Anzac Day".

Mr Pyne told reporters in Adelaide that he wanted to implement any changes from the review in 2015, after consulting with state and territory counterparts.

He dismissed questions about the impartiality of Professor Wiltshire and Dr Donnelly, saying: "I'm very confident that Ken and Kevin will bring a balanced approach."
Christopher Pyne tackles leftist 'bias' in classrooms by DAVID CROWE – The Australian January 10, 2014 (Read more if you want to pay for it.)
THE Abbott government will move today to reshape school education by appointing strong critics of the national curriculum to review what children are taught, amid fears a "cultural Left" agenda is failing students. The Education Minister, Christopher Pyne, is seeking a blueprint by mid-year to overhaul the curriculum, warning that the rise of "remedial" classes at universities proves the depths of the problem in Australian classrooms. Vowing to restore an "orthodox" curriculum, Mr Pyne will today name author and former teacher Kevin Donnelly and business professor Ken Wiltshire to lead the review.