One Nation candidate warns of Nazi styled covert gay mind control program – Gay and Lesbian Perth WA News – OutInPerth Gay and Lesbian Perth WA News – OutInPerth
One Nation candidate warns of Nazi styled covert gay mind control program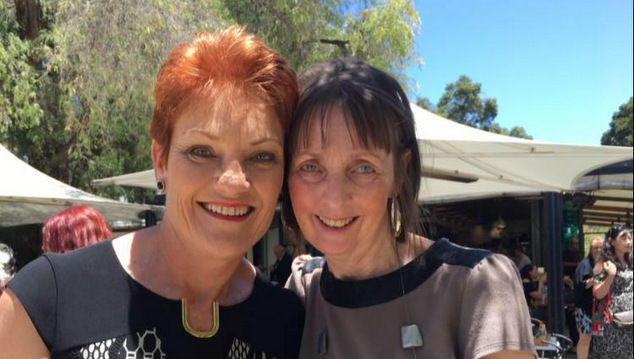 The strange and odd beliefs of One Nation's political candidates continue with a claim from the party's Bateman candidate that the gay community covertly uses a Nazi styled mind control program to convince people to support marriage equality.
Michelle Meyers was initially announced as the party's candidate to take on Southern River MLA Peter Abetz, but she's been reassigned to the seat of Bateman – where she'll battle the Liberals' Dean Nalder.
Last year Meyers posted to her Facebook page her frustration about Christians who were accepting of the LGBTI community.
"Are you wondering why even some Christians are being swayed by the gender industry's pitch and push 4 same sex 'marriage' and acceptance of fake families?" the One Nation candidate asked.
She goes on to explain the the LGBTI community use a disingenuous mind control program created by two unnamed homosexuals from Norway.
Meyers says the gay community's secret mind control program is similar to one's developed by the Nazi's and the Soviets.
As she does in several other posts, Meyers describes gay people as being unnatural, unproductive and unhealthy. The candidate labels the children of gay and lesbian people "fake families".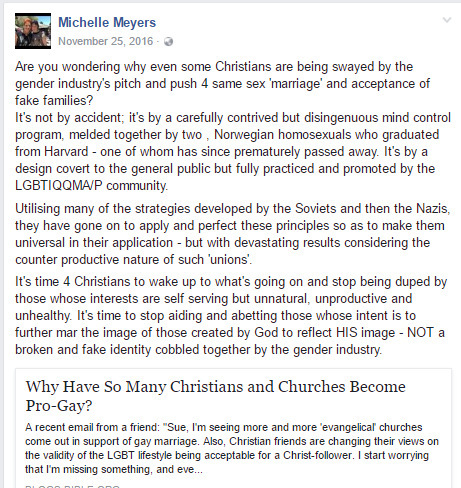 One Nation, Michelle Meyers, and WA leader Colin Tincknell were approached for comment but have yet to respond.
There's no information if a One Nation candidates are successful in getting seats in parliament if they'll be taking action against the secret Nazi styled mind control programs.
The concern over mind control is not the only post Meyer's has about LGBTI people.
Meyers also shares how the sight of rainbow patterns make her sad.
Alongside a photo of a cushion with a five coloured striped pattern Myeres shares that the sight of a rainbow makes her sad because the rainbow has become an emblem for a "sexually corrupt and morally bankrupt society".
"The rainbow has been raped and sullied. its colors [sic] have been purloined and paraded as a trophy of the culture war being waged worldwide. But its fruits are bitter, it's victory hollow and its legacy toxic." Meyers said.
Elsewhere on her publicly available Facebook page the candidate suggests on multiple occasions that gay people are sexually confused and need training and therapy. Meyers said gay people should realise that they are the ones who "need to change".
Meyers has previously been a candidates for the Australian Christians and is an outspoken anti-abortion campaigner who regularly protests outside abortion clinics.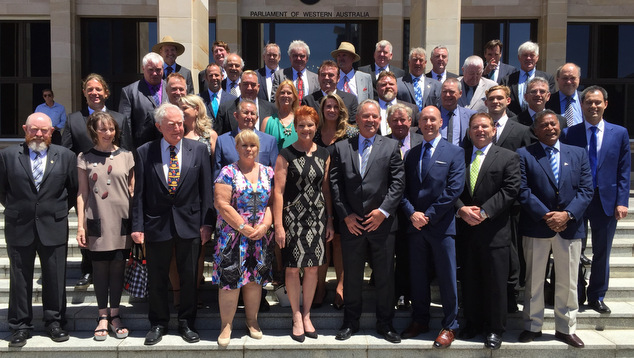 The Liberal party has announced a deal with the One Nation party that will see them direct their preferences to the party in regional seats over their current partner's in government The Nationals.
Premier Colin Barnett told reporters yesterday that he'd made the deal to ensure his party stayed in government.
One Nation's WA leader Colin Tincknell said the deal makes One Nation the third force in Western Australian politics.
National leader Pauline Hanson appeared on SKY News' The Bolt Report last night and said it was a great deal for One Nation.
"It's great, it a great deal for One Nation," Hanson said, "It looks like it will get us some seats in the upper house in Western Australia."
Andrew Bolt asked Hanson why her party attracted some very strange people who want to become politicians, noting that the party had been forced to dis-endorse a candidate who claimed that the Port Arthur Massacre was faked, while another Queensland had called for gay people to be given treatment.
Hanson said all political parties faced the same problem and that you could only go so far in vetting candidates and once they were endorsed you have no control over what they say.
"All political parties face the same problems, but they are focusing on me because they are so determined to get rid of me, to discredit me, to discredit my party." Hanson said.
Graeme Watson
Tags: Colin Barnett, Colin Tincknell, Liberals, Michelle Meyers, mind control, Nazi, One Nation, Pauline Hanson, rainbows, Soviet