[youtube]http://www.youtube.com/watch?v=un_8ZVKez5o[/youtube]
We were warned before he rose to power
'The United Nations refugee agency says it is waiting for an explanation from the Abbott Government over reports that asylum seeker boats have been forcibly returned to Indonesia.'
[youtube]http://www.youtube.com/watch?v=m-vByhjmWVQ[/youtube]
Profoundly Deaf, not death.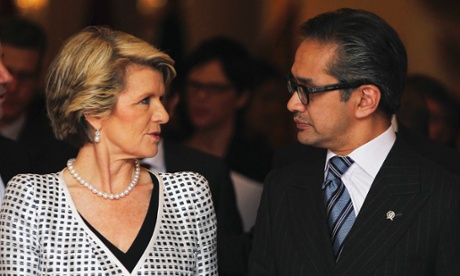 Australian foreign minister Julie Bishop with her Indonesian counterpart Marty Natalegawa in Jakarta. Photograph: Beawiharta/Reuters.
Indonesian police have reported to the UN that at least two asylum seeker boats have been forced back to Indonesian waters by the Australian Navy.

Picture: Getty
Indonesia reports that the first boat was found just before Xmas on the island of Rote. Rote Island is located in Indonesia's East Nusa Tenggara region.
[youtube]http://www.youtube.com/watch?v=pJTX0iWYX9A[/youtube]
We were warned before he took office
The United Nations Refugee Agency (UNHCR) is warning such actions may place 'Australia' in breach of its obligations under international law. UNHCR is also investigating reports that the Abbott/Bishop government seeks to provide lifeboats for asylum seekers for future push-backs, another broken promise by the Abbott government?
I was shocked to find so many intimate photo of Bishop and Abbott.
[youtube]http://www.youtube.com/watch?v=uS2V7S7Iv-Y[/youtube]
By his own mouth
It is alleged that 47 people seeking asylum, were on-board a boat that was pushed back into Indonesian waters on December 19. Another group of around 45 people seeking asylum, are said to have been pushed back by the Australian navy on the 6th of January. The UNHCR says that this is the first report of boats being turned back from Australia in five years and the UNHCR would like to hear the Abbott Government's side of these allegations.
Tony Abbott has likened the Government's border protection approach to being at "war" with people smugglers. The Chief of the Defence Force has been forced to defend the actions of defense personnel, after a number of asylum seekers have claimed they were mistreated by Australian authorities.
Mr Abbott told Channel Ten 'that releasing information would help people smugglers, and put asylum seekers' lives at risk.
"We are in a fierce contest with these people smugglers," he said.

"And if we were at war, we wouldn't be giving out information that is of use to the enemy just because we might have an idle curiosity about it ourselves."
Audio: PM says campaign against people smugglers like being at war (The World Today)
But Labor Leader Bill Shorten says 'nothing justifies Tony Abbotts, and his governments ongoing war with the truth.'
"We don't know what is happening on our borders. We don't know what the Prime Minister is doing, or if he has any control over the situation at all," he said.

"We are getting more information from Indonesia than from our own Government."
Indonesia's government and military close ranks against Australia's boat turn-backs
Indonesia's government and military are closing ranks against Australia's policy of turning back asylum seeker boats, after claims two boats were recently forced back to Indonesia.
[youtube]http://www.youtube.com/watch?v=jxZPdpIUHpg[/youtube]
A sovereign country, once silent about Asylum Seeker matters, has been forced by the Abbott government to make public media announcements about the asylum seeker issue, since Julie Bishop and Tony Abbott slid into government by the seat of their pants on September 7th, 2013. Every prophetic statement made by former Labor leaders, Julia Gillard, Kevin Rudd, concerning a creation of a dire situation with Indonesia on the seas, should Abbott ever become a PM of Australia, have been coming true. Why has Abbott been throwing around terminologies such as 'War?'
I have never known someone to use such loaded and offensive language, as I have had the displeasure of witnessing from the mouth of Australias current PM, Tony Abbott. What makes it worse, is that he writes his own stuff. So he has no-one to blame for the atrocious speeches and comments that he makes concerning both national and international matters.
SPC workers may as well begin to find for themselves new work, because an Abbott government, a Liberal government, will not, do not, care about you. They will not prop up a business to keep Australians employed, they want to pay welfare, they want to bring you to your knees so that when they make you work for the dole, or on a prison type chain gang work for dole scheme, you will be grateful for the crumbs that fall from the Abbott table of scraps.
Abbott does not care that Labor have a petition signed by every family in Australia, not associated with any Liberal Federal member, to keep the school kids bonus. The Howard breeding program, that bought most of these children into being, and as the dysfunctional parents that the Liberal government represents, they will abandon these children, because they don't care. They do not care about Australians, the worker, the disabled, the manager. If you can't afford to import a bomb proof, gas proof BMW, then don't bother.
Bernie Banton had a petition too…

[youtube]http://www.youtube.com/watch?v=TjklT59clE4[/youtube]
[youtube]http://www.youtube.com/watch?v=un_8ZVKez5o&list=PLFB56E3413DB735FC[/youtube]
The phony Tony channel
JMO